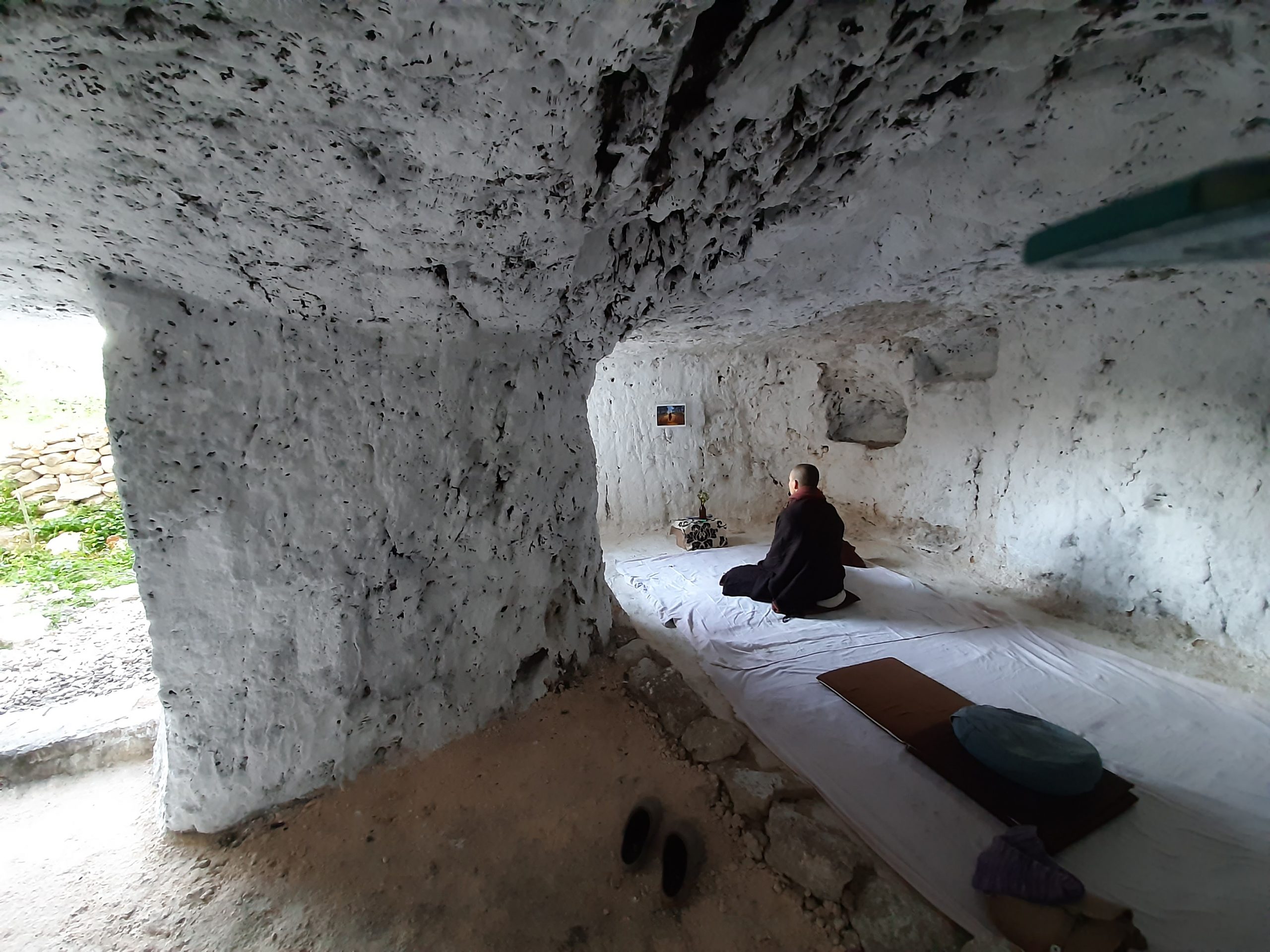 The Caves
Whether for a few days, a few months, or for the rest of your life, we welcome you to join us here at the caves.
A meditation community is nothing without sincere, dedicated meditators. This means the very best way you can support us is to come and meditate.
A stay at the caves can be a magical experience, but it isn't for everyone. For more information about the caves take a look at our daily life, our rules and our FAQs. If you still have questions then get in touch with us.
Our daily life
Our daily life in the caves is based on our core values and is centred around meditation. Each of us is free to practice in whatever way we feel to be most beneficial, and instruction and guidance is available when we need it. We have a meditation cave which is an ideal place to practise, or sometimes we prefer to meditate alone in our own caves, under a tree, or in some other quiet place.
We come together at 7am and 7pm each day for our group sittings. After the sitting we sometimes ask questions or discuss the Dhamma. Other than this we are free to use our time in whatever way we feel is most beneficial to our practice.
We try not to disturb each other with too much talking and socialising, but we are friendly and help each other whenever there is the need.
We have a small collection of Dhamma books that you are welcome to borrow, or you can read in our communal kitchen and help yourself to a cup of tea.
Our main meal is at midday. At the moment we have no resident cook, so we volunteer in taking turns to prepare lunch. For breakfast we simply help ourselves to anything we fancy from the kitchen. In order to support meditation, we encourage guests to keep the precept to abstain from eating after midday, and so no evening meal is prepared. If our guests struggle to keep this precept for health reasons however, they are welcome to prepare themselves an evening snack.
We share food, each person contributing in their own way. A wide range of foods are available to be bought at the local market. Our guests may also like to harvest the local nuts and fruits when they are in season. Our resident monastic community are encouraged to go for alms.
There is always work to be done, and it is up to each person to decide for themselves how much time they would like to give to community service and the type of service that they would like to do. Whilst voluntary work is always optional, we believe this service can form an important part of your meditation practice, and teachers will be happy to guide you on how to bring mindfulness and wise attention to your work.
In all ways, we try to keep life simple, living with contentment and gratitude.
Our Rules
In general we try to keep our community rules to a minimum, giving everyone the freedom to practise in a way that feels natural and growthful to them.
As a basic standard of ethical living we ask you to keep the five precepts. These precepts were given by the Buddha to anyone wishing to meditate:
To abstain from killing any living being.
To abstain from taking what is not given.
To abstain from sexual activity.
To abstain from false speech.
To abstain from taking intoxicants.
We also encourage, but do not insist, that you keep an additional three precepts. These were given by the Buddha to anyone wishing to deepen their meditation practice:
To abstain from eating after midday.
To abstain from entertainments such as singing and dancing.
To abstain from beautifying the body.
Some of us, whether lay practitioners or ordained in a Buddhist tradition, may choose to keep additional precepts, and this is up to each of us to decide for ourselves.
We ask everyone in the community to attend our daily group meditation sittings at 7am and 7pm. You may use the rest of your time in whichever way you consider to be best for your practice.
If our teachers are concerned that you are practising in a way that is not beneficial to you, they may request you to attend a meditation interview. Whilst we do not expect you to follow the advice of the teacher blindly, we do expect you to be honest, open, and cooperative. You can find out about our teachings here.
Other than this we simply ask that all members of our community respect each other's practice and try not to cause each other any unnecessary disturbance.
When things aren't working
In rare cases, things don't work out and we feel the need to ask a guest to leave. Such a decision is not taken lightly. In such cases we strive to be fair and compassionate.Here are some examples of why things may not work out:
Although our rules are simple, you may struggle to keep them. We will always give you a friendly reminder, but if you persist in breaking our rules we will ask you to leave.
Sometimes we may feel that we cannot offer you the practical, psychological, or spiritual support that you need. In such cases we may suggest that you seek appropriate support elsewhere. In some cases suitable supplementary support may be available locally, in which case you may continue to stay with us. If we feel your needs cannot be met here in Almeriá then we may ask you to leave.
Sometimes we may receive complaints from other community members that your behaviour is disruptive or disrespectful. We will always listen to all sides before making a decision, but if you persist in disturbing others, in the best interests of the community as a whole, we will ask you to leave.
With us a goodbye need not be forever. If the conditions change then any guest who has been asked to leave may, at our discretion, be welcome back at some other time in the future.
Visiting the caves
Unfortunately, the caves are closed for the time being. We hope to re-open them soon.
FAQ
Here are some frequently asked questions along with our answers. If we haven't covered your question here, feel free to send us a message.
Getting to us
Staying in the caves
Food
Meditation
Volunteering
Making an offering
Other questions